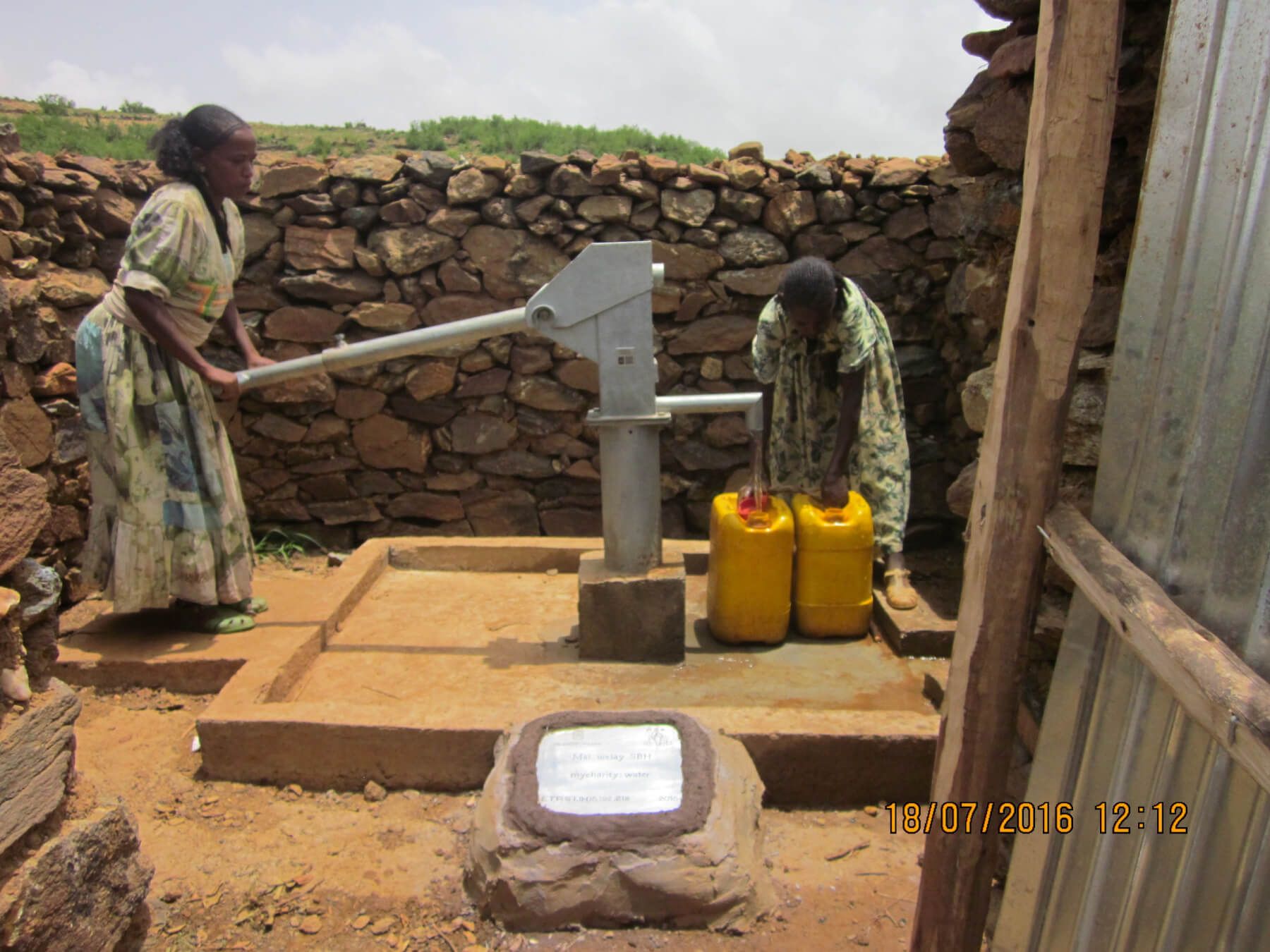 Thanks to you, this community of over 350 people now has access to clean and safe drinking water.
YOUR INVESTMENT
The water technologies we fund depend on the region's water availability, culture and economic conditions. Our partners survey each site and meet with the communities to determine the best solution.
This community received a drilled well. A professional team drilled deep into the earth to reach fresh underground aquifers, then capped the well with a hand pump. Drilled wells reach water that is inaccessible by hand-digging, and usually yield more water than hand-dug wells. They are also more expensive to implement because of gas costs required to drive heavy machinery to the drill site.
COMMUNITY ENGAGEMENT
Additionally, our local partners trained community health workers and local leaders to disseminate positive hygiene and household sanitation messages to their respective community members. Each family using the new water project contributed to their project's construction -- a small fee, but one that helps instill a sense of personal ownership for the project. Each family will continue to pay a small amount to use the water. The community will save this money for any necessary maintenance and repairs. Fees weren't the only contribution the community made. Community members helped build structures to protect each water point after they were built. The people here, especially women and girls, used to walk up to two hours to collect water for their families. The water wasn't safe to drink and often made people sick. Thanks to your help, the community walks significantly less every day to collect water. Most importantly, the water they bring home each day is safe enough to drink.
Enter some text
Enter some text
Enter some text
Enter some text
Enter some text
Enter some text
According to the National Strength and Conditioning Association, a warm-up is defined as "preparatory activities and functionally based movements that are specifically designed to prepare the body for exercise or sport". Designing an adequate warmup is usually dependent on the athlete's needs, goals, and abilities.¹ The goal is to mentally and physically prepare the athlete for a training session or competition; while reducing the risk of injury. Benefits of a well designed warm-up are as follows:² Psychological readiness and preparation Increased blood flow to active muscles Increased strength and power output Improved joint range of motion Increased core temperature Enhanced oxygen delivery Faster muscle contraction and relaxation There are many warm-up procedures that a coach or athlete may implement into their training routine. Learning about the advantages of different procedures is crucial to building an effective warm-up specific to yourself or another individual. This article will discuss traditional procedures like static and dynamic stretching; as well as some newer modalities aiding in the speed and effectiveness of a warmup.