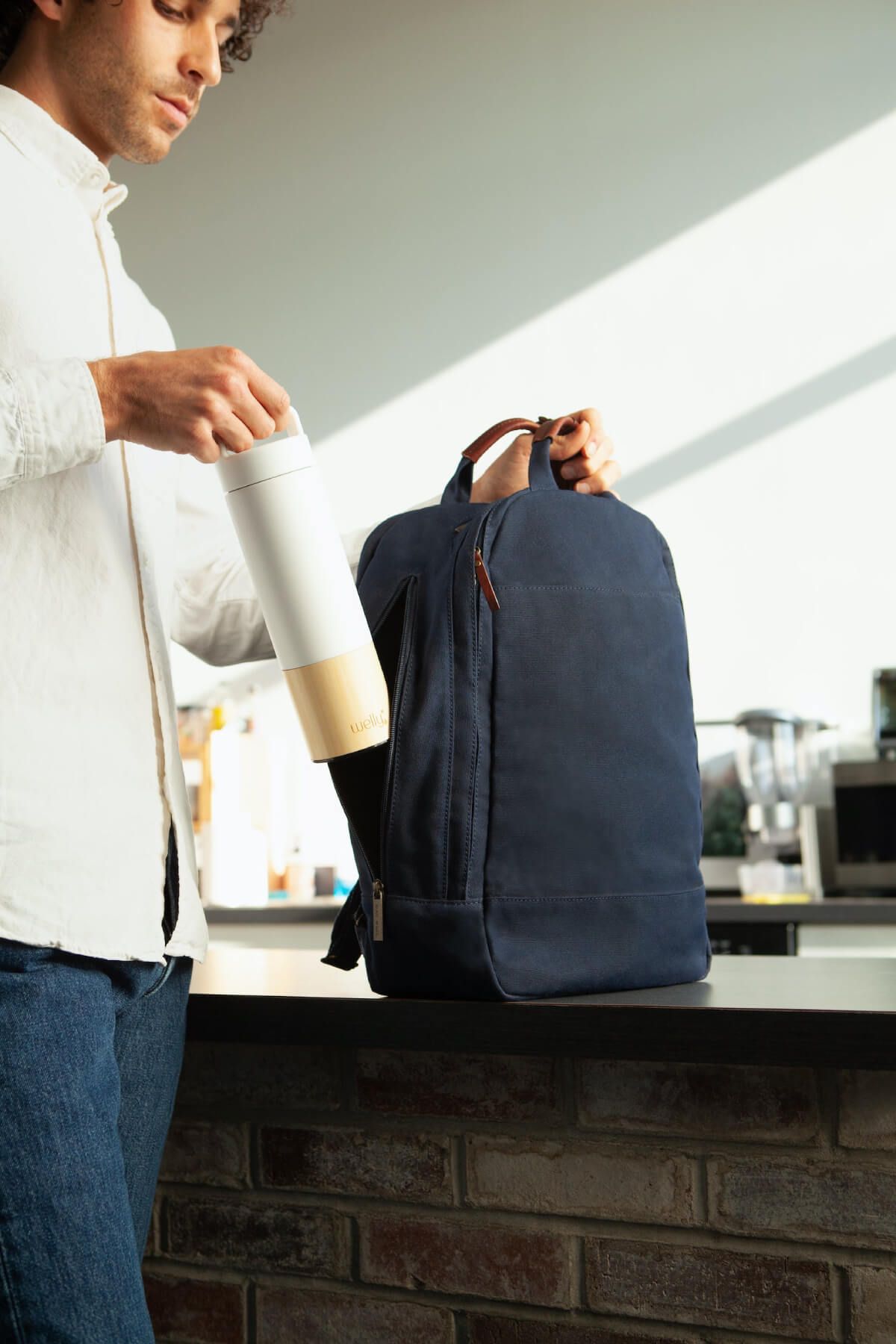 With the holiday season just around the corner and family celebrations happening over Zoom, now more than ever we are eager to find the perfect gift for our loved ones. Gift giving can sometimes be overwhelming, not to mention a shameless ploy for overconsumption, so we're here to help you find the perfect gift that shows you care about your loved ones and making a positive impact at the same time. Here is our Mission-Driven Gift Guide to give back while you give gifts this holiday season.
For the water enthusiast.
Brand: Welly
Cause: Access to clean water
Our pick: 18oz Traveler
Welly crafts unique, eco-friendly bottles from bamboo and premium stainless steel to help reduce waste and donate funds to bring clean water to those in need. Through the sales of Welly's travel bottles, mugs, and tumblers, Welly has brought clean water to 50,000 people with projects that have included building wells and solar-powered groundwater pumps. Welly bottles come in up to 19 colors and prints, with personalization options available. Any water-bottle-lover would swoon over the 18oz Traveler white and bamboo tumbler that keeps drinks cold for 24 hours.
For the fitness fanatic.
Brand: FROPRO
Cause: Addiction recovery and education
Our pick: Variety Pack
FROPRO makes organic snacks from plant-based protein to power you to be the best version of yourself. FROPRO is available in 13 different flavors, as well as variety packs and a monthly subscription. Each bar has the same 5 core organic ingredients: nut butter, plant based protein, cinnamon, oat flour, and raw honey. At the same time, FROPRO builds a community of individuals who have overcome hardships and now seek to help spread awareness for working through addiction towards recovery. FROPRO was founded by Matt Williams and his wife Chelsea. Matt has been sober for 10 years and hopes to use his story and accomplishments to educate others and bring attention to addiction recovery. FROPRO's Variety Pack is the perfect gift for any fitness enthusiast in your life.
For the caffeine craving hustler.
Brand: Brewbike
Cause: Empowering young people with entrepreneurship
Our pick: Brew Flight
Brewbike is not only a coffee pioneer with their easy to use cold brew brew bags, but they're also a company dedicated to empowering the next generation of student leaders and entrepreneurs. Brewbike's origin as a student-run start-up remains firmly at the core of our company's values and the reason it created the Future Fund, a grant program for student entrepreneurs like the company's founder. Each purchase offers the opportunity to support student leaders on Brewbike's campuses, which isn't hard since Brewbike's coffee is delightful and their merch is irresistibly trendy. For the coffee lover you know who loves to support small businesses, Brewbike's Brew Flight is the perfect starting point to try all 3 signature flavors.
For the traveler.
Brand: Day Owl
Cause: Upcycling plastic waste
Our pick: The Backpack
Day Owl's products convert discarded plastic bottles into durable canvas bags that are weather-resistant, and ultra-sustainable. Each bag is made from 25 water bottles, which translates into 700 gallons of water saved and 1.2 pounds of pesticides avoided compared to a traditional cotton bag. Day Owl's sleek backpacks come in two sizes - the small fits a 14' laptop and the large fits a 16' laptop. They also have an add-on chord pouch perfect for people who know how easy it is for essentials to get lost inside a big bag. As another part of their sustainability mission, they offer free repairs and end-of-life recycling, so Day Owl's bags really are for life. The Backpack in jam red is a timeless piece for travelers and young professionals.
For the four-eyes in your life.
Brand: Genusee Eyewear
Cause: Flint, Michigan water crisis and plastic upcycling
Our pick: Crystal Fog (blue-light-filtering)
Genusee Eyewear provides an innovative solution to the man-made water crisis in Flint, Michigan by simultaneously creating living wage jobs in the community, reducing local plastic waste, and building a closed-loop eyewear business. Upcycling 15 water bottles for every pair made, Genusee redirects plastic waste in Flint towards affordable optical and sunglasses. On top of reducing waste and creating jobs for the Flint community, 1% of Genusee's profits are donated to two funds that address children's health and education in Flint. The Crystal Fog eyeglasses with blue light filtering lenses are completely on trend for your college student who spends all day in Zoom lectures and wants to know their purchasing power stands up for marginalized communities.
For the student.
Brand: Scout Books
Cause: Sustainable print & social progress in Portland
Our pick: Gray Chipboard Set
Scout Books offers the cutest selection of notebooks and note-taking supplies to meet all your bullet journal aspirations no matter if you prefer blank, lined, or dot grid style pages printed with vegetable-based inks. Scout Books was founded to allow designers the opportunity to create their own notebooks on 100% recyclable paper. You can print custom-branded notebooks for your own firm, or have the opportunity to sell on Scout Books' store, like one illustrator's Handy Tips for Happy Plants Notebook. Scout Books also gives back to their local Portland community through The Equity Alliance, designing and printing books for environmental and social causes such as OPAL Environmental Justice Oregon. The gray chipboard set is the ideal gift for the student in your life who loves making lists (we all know at least one), and they can double as name tags, collage paper, or thank you notes like the one you'll be getting for this thoughtful present.
Bonus! For the global philanthropist.
Brand: Unite the World with Africa Foundation
Cause: Empower marginalized women in Tanzania
Unite the World with Africa Foundation empowers marginalized women in Tanzania through mentorship and grants to pursue their small businesses and achieve financial independence for their families. The Foundation works with Mjane Jasiri -- "brave widow" in Swahili -- who are uniquely victimized after the death of their husbands to break the stigma around widowhood and help the women grow their own businesses. The Mjane Jasiri Widows Program accepts donations and will be selling one of a kind, handcrafted bags and masks that make a thoughtful gift for the wearer to know they're supporting every member of the creator's family.
Enter some text
Enter some text
Enter some text
Enter some text
Enter some text
Enter some text
According to the National Strength and Conditioning Association, a warm-up is defined as "preparatory activities and functionally based movements that are specifically designed to prepare the body for exercise or sport". Designing an adequate warmup is usually dependent on the athlete's needs, goals, and abilities.¹ The goal is to mentally and physically prepare the athlete for a training session or competition; while reducing the risk of injury. Benefits of a well designed warm-up are as follows:² Psychological readiness and preparation Increased blood flow to active muscles Increased strength and power output Improved joint range of motion Increased core temperature Enhanced oxygen delivery Faster muscle contraction and relaxation There are many warm-up procedures that a coach or athlete may implement into their training routine. Learning about the advantages of different procedures is crucial to building an effective warm-up specific to yourself or another individual. This article will discuss traditional procedures like static and dynamic stretching; as well as some newer modalities aiding in the speed and effectiveness of a warmup.