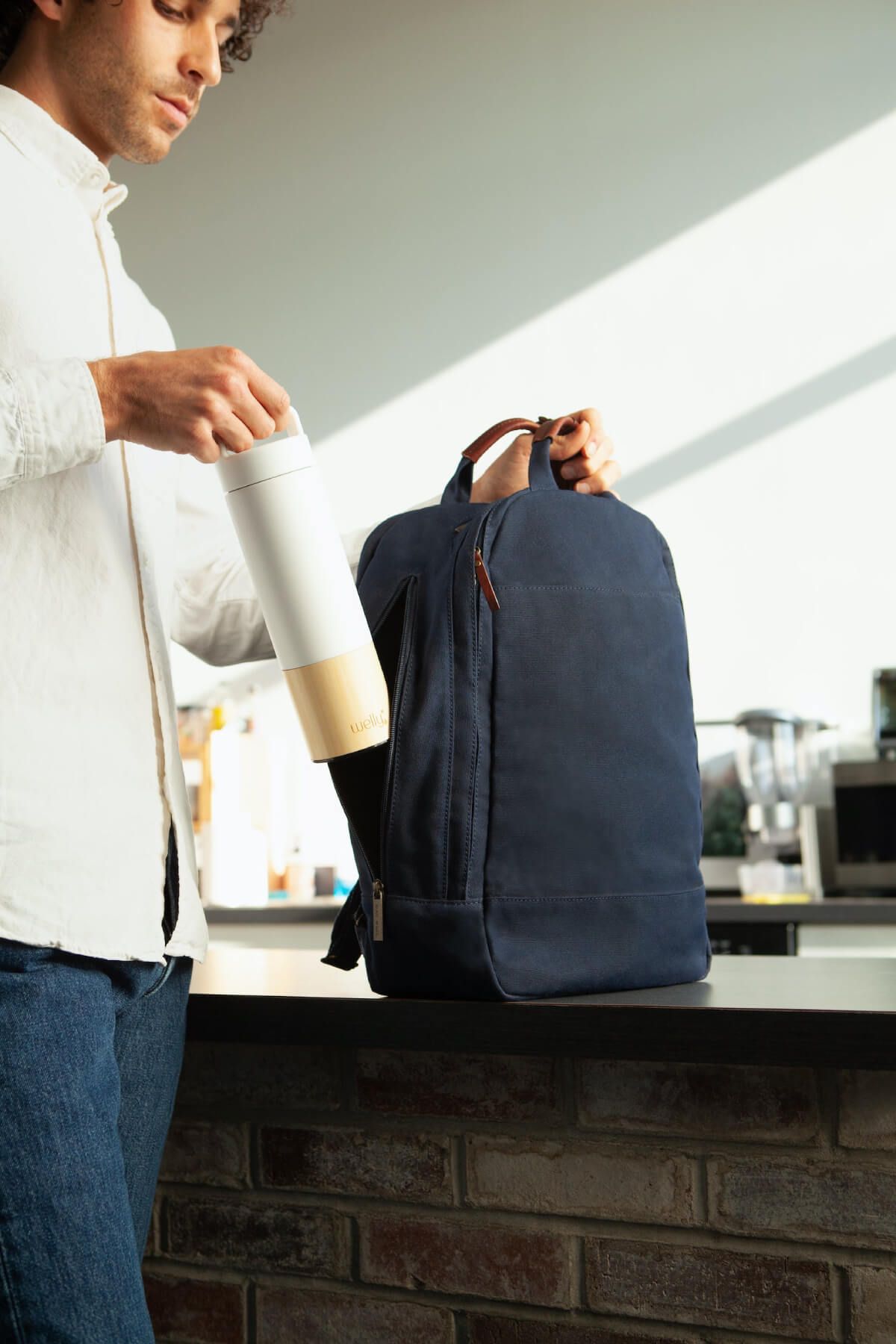 We're excited to partner with fellow Pittsburgh brand Day Owl, whose chic backpacks are made from recycled plastic bottles, for Pocket Partners: everyday essentials that make your day better from brands in Pittsburgh, Portland, and Flint that make the world better.
Our founder and CEO sat down (virtually) with Ian Rosenberger, founder of Day Owl, - read Ian's recount and watch their conversation below. Then save 20% at Day Owl with code WELCOME20:
"With Welly, we came for how great the water bottle is, but we stayed because of how great the team is. Ben (the founder) is the type of person that immediately makes you feel like you've known him for 10 years. He feels like the kind of guy that invites strangers to Thanksgiving or fosters two-legged dogs, just a really nice person.
Ben named the brand after his mom, Elly, and she lives on through Welly's mission. They're a small team just trying to piece it together like the rest of us in what will certainly be remembered as the weirdest time of our lives. They also clearly understand that access to things like clean water is the basis for the type of dignity that actual equity is built on. Most product brands toss on this type of thing because they don't really understand it, but feel like it's something they should do. It was clear to me from the first 10 minutes of my first conversation with Ben that the Welly team started with the mission, and then figured out how to deliver a really amazing, functional, sustainable, beautifully-designed product around it.
So, with that in mind....this thing keeps my coffee HOT, which is clutch for a dad with one year-old and "2020 COVID work-from-home means I'm kind of working from 6am to 9pm but also doom scrolling Twitter every 20 minutes". It's great looking, and it fits well in my bag, of course. At this point, we're a little biased, but I highly reccommend.
I love interviewing founders about why they started their companies and where they're headed, but I really loved getting to know Ben. I hope they're Pocket Partners for a long, long time. Check out my interview with Ben Kander below."
<iframe src="https://player.vimeo.com/video/472676622" width="640" height="360" frameborder="0" allow="autoplay; fullscreen" allowfullscreen="">

Enter some text
Enter some text
Enter some text
Enter some text
Enter some text
Enter some text
According to the National Strength and Conditioning Association, a warm-up is defined as "preparatory activities and functionally based movements that are specifically designed to prepare the body for exercise or sport". Designing an adequate warmup is usually dependent on the athlete's needs, goals, and abilities.¹ The goal is to mentally and physically prepare the athlete for a training session or competition; while reducing the risk of injury. Benefits of a well designed warm-up are as follows:² Psychological readiness and preparation Increased blood flow to active muscles Increased strength and power output Improved joint range of motion Increased core temperature Enhanced oxygen delivery Faster muscle contraction and relaxation There are many warm-up procedures that a coach or athlete may implement into their training routine. Learning about the advantages of different procedures is crucial to building an effective warm-up specific to yourself or another individual. This article will discuss traditional procedures like static and dynamic stretching; as well as some newer modalities aiding in the speed and effectiveness of a warmup.